Autonomise Alarm Settings
See MiFleet Support for assistance Device Alarms:

To view or edit Organization platform alarm settings, select the device type on the top right corner. Once selected, the current alarm settings for the device type will be displayed.
Alarm Type

– allows Admin to adjust how platform will handle Alarms when triggered.

Raise Event

- event will be triggered within the Autonomise platform

Discard-

platform will ignore the alarm selected when triggered by the device

Event Type

- lists the event name in the platform

Event Classification

- allows Admin to determine the severity of the event selected (Green/Amber/Red)

Channels

- allows selection of channels to associate with alarm selected. When the alarm is triggered, the event will include video from the channels selected.
If changes are made, click 'Save Alarm' to save
If a change is made, the option to 'Reset' will be displayed on main page allowing user to easily go back to the default settings for each alarm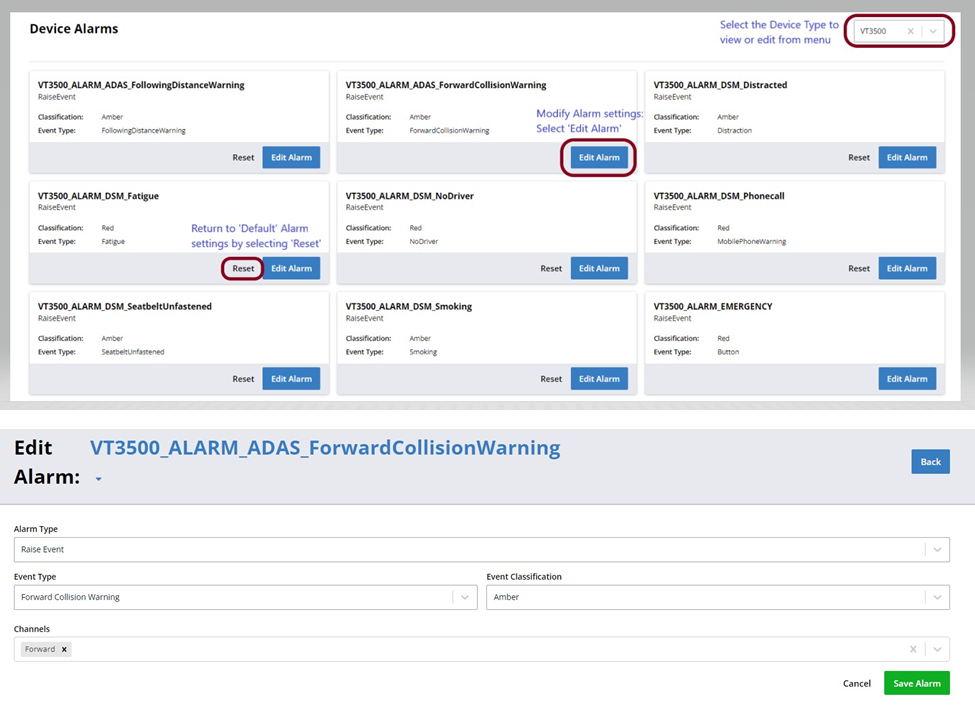 Related Articles

Autonomise Alarm Rules

Organization Video Upload Rules: This section allows the Admin to configure video settings by event type and severity Disabled – when event is triggered, no video will be automatically downloaded. Video can be requested by user from Event in the ...

Autonomise Orgnization Settings

Organization To view/update Organization settings, navigate to User/Organization Organization This section contains basic organization settings. These settings can be updated and then saved by clicking 'Update Organization Details'. Commonly updated ...

Autonomise System

System To administer key elements of the platform System > Audit History: to see a full audit history of changes to information on the platform. Filter on Entity (e.g. Addresses, Drivers, Event Notes, Fleets, Map Settings, Organisation Licenses, ...

Autonomise Login

Login https://app.autonomise.ai Username determines role access Username and password are case sensitive User > Profile > Change Password

Autonomise Video Settings

Organization Settings: Admins commonly determine their 'default' Organization settings and ensure their account has their defaults in place. The default settings for the Organization will carry over to 'sub' Organizations but each of the 'sub' ...